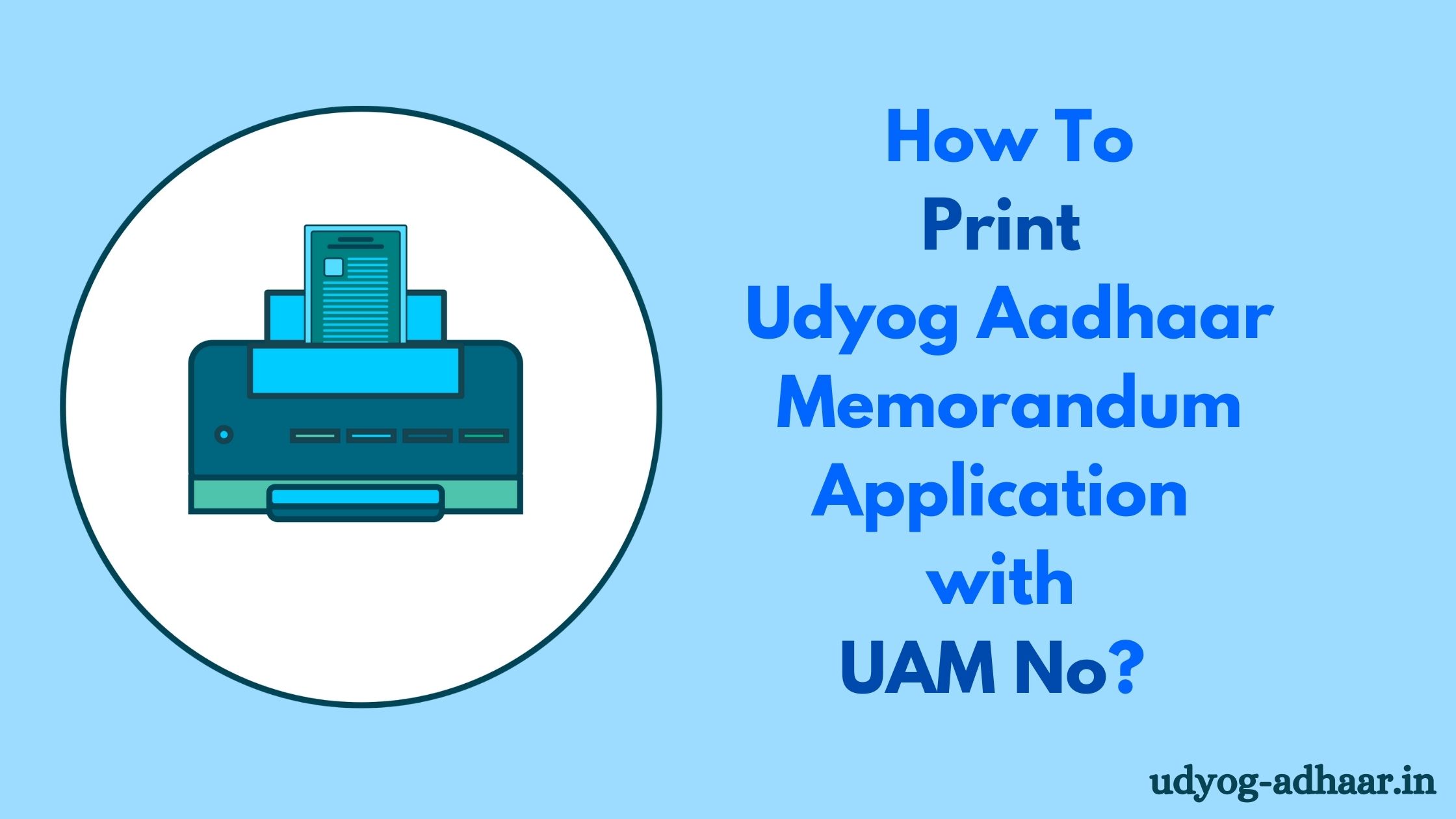 How To Print Udyog Aadhaar Memorandum Application with UAM No?
Government is currently updating its Udyam Registration Portal on a regular basis and introducing new options for different purposes. In this blog article we will talk about the new options for Print Udyog Aadhaar Memorandum Application with UAM No.
The Udyog Aadhaar Memorandum (UAM) is a one-page registration format where all details for registered business are given such as company information, UAM no, Registration Date and other details.
The Government of India has now updated the Udyog Aadhaar Registration definition and procedure, and it will now be known as the Udyam Registration. On 1 July 2020, it was introduced by the Indian government with the purpose of simplifying the old Udyog Adhaar Registration process and spreading the awareness of ease of doing business.
Note: For a comprehensive guide, you can check our blog post on Udyam Registration. According to new notices circulated by the government, it is mandatory to update old udyog aadhaar certificates to MSME new Udyam Registration before 31 March 2021. For this purpose you can visit our Udyam Re-Registration Portal.
Requirements for Udyog Aadhaar Memorandum Application Print
Arrange these below mentioned requirements before going to print your Udyog Aadhaar Memorandum
Udyog Aadhaar Memorandum Number (UAM No).


Registered mobile number that you have filed with your Udyog Aadhaar Registration applications for OTP verification.
How can you Print your Udyog Aadhaar Memorandum Application Online with UAM No?
Udyog Aadhaar Memorandum Application printing is not a hard task. Just print your application in 3 simple steps which are mentioned below for fast results.

Step 1: Firstly, go to the Udyam Registration Portal.

Step 2: Enter your 12-digit Udyog Aadhaar Memorandum Number (UAM No) and registered mobile no that you have filed with your application.

Step 3: You will be then automatically redirected to the Udyog Aadhaar Memorandum Applications page where you can print your application.

Now you have completely understood the process for Udyog Aadhaar Memorandum applications print. Our portal is fully safe and secure which provides a single-window registration system for trouble-free Udyam/MSME Registration. If you have any query related to this then just reach us @udyog-adhaar.in and we will reply you soon with the solution.

You can also contact us through our udyog-adhaar.in fb page.



Apply For Udyam Registration
30 Benefits of Udyog Adhaar Registration
How To Print Udyog Aadhaar Memorandum Application with UAM No?
Print Udyam Certificate
Government Package For MSME 2020
Check Udyam Registration Status Online Through Udyam Portal
How To Check If Certificate Has Been Generated Against Udyam Number Provided?
---
LAST UPDATED ON : 31/05/2023
WEBSITE MAINTAINED BY UDYAM REGISTRATION CENTER
---
THIS WEBSITE IS A PROPERTY OF A CONSULTANCY FIRM, PROVIDING CONSULTANCY SERVICES. WE EXPRESSIVELY DECLARE THAT WE ARE PRIVATE CONSULTANTS. WE HAVE NO RELATION OR WE DO NOT REPRESENT ANY GOVERNMENT OFFICIAL OR ANY GOVERNMENT DEPARTMENT