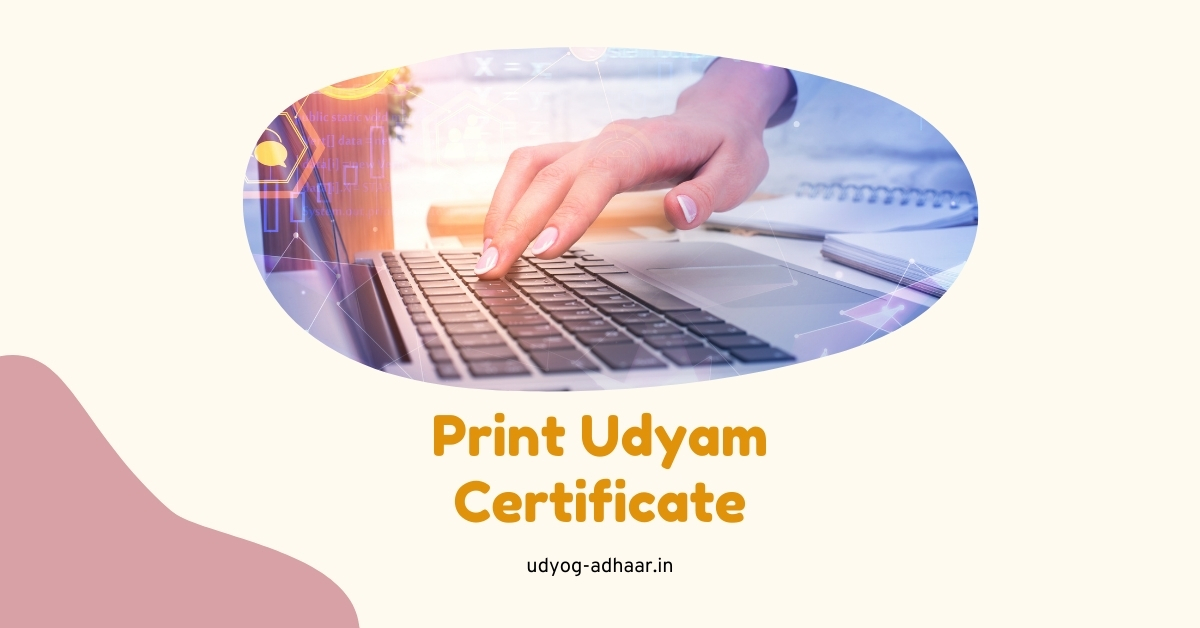 Print Udyam Certificate
Udyam registration is a new definition under MSME for Udyog Aadhaar Registration. On 1 July 2020, the Indian government launched the Udyam Registration with the goal of simplifying Udyog Aadhaar's hard registration process and encouraging business-friendliness and saving the entrepreneur from a difficult registration system.
The term "Udyam" means the Company itself, formerly known as Udyog Aadhaar Registration and the registration process will now become Udyam Registration.
MSME's union ministry has now launched the new online web portal program to register for Udyam. The registration process will be based entirely on self-declaration and no need for any kind of documentation or proof of registration is required under this framework.
Under this portal a company can be classified simply based on the Aadhaar number. Documentation of any kind is not necessary under this process. Under this page you need to fill in the Udyam registration form, and after submitting the application you can easily print Udyam registration certificate online.
Sample of Print Udyam Registration Certificate
You can receive the Udyam Registration Certificate with lifetime validity after all of the Udyam registration process. When you have obtained the registration certificate, no renewal is required. Upon successfully completing the registration process you can easily take the print of your Udyam registration certificate. Check the Udyam Registration Certificate sample below:
Below are a few points that will help you understand Udyam Certificate of Registration:
At first, you will see the categories of undertakings where it is listed under which MSME classification your undertaking would come and with which industry you belong.


Just after that, the 16-digit Udyam Registration Number (URN) will appear.


Below is the Enterprise name and details of your company's address are given.


Afterwards you will find the registration and the start date of your incorporation.


Now you can see the National Industry Classification Code (NIC code). It's a statistical method for establishing and maintaining a comparable database of different economic activities.


Finally, the Acknowledgement date is given.
Click Link to Print Udyam Certificate -
https://udyog-adhaar.in/print-certificate.php
How to Print Udyam Registration Certificate online?
Below we mentioned the simple procedure which will guide you to take out the Udyam Registration Certificate print:

STEP 1: Go to the Udyam online portal first.

STEP 2: Click on "Print Udyam Certificate" at the navigation menu.

STEP 3: Now enter your registered email id, phone number, aadhaar card, 16 digit number of your Udyam registration and after filling press the "Submit" button.

STEP 4: One Time Password (OTP) will be forwarded to your mobile phone.

STEP 5: Provide OTP to our support team for processing your application.

STEP 6: Get the certificate in 1-2 hour in your registered email id in pdf format

NOTE: If you till now not register as Udyam under MSME then just go to our Udyam Registration Page or you have previously registered as Udyog Aadhaar then it compulsory for you to convert it to MSME new Udyam Registration before 31st march 2021. Just fill the form in our Re-Registration page.
If you face any kind of problem while taking the print of Udyam Registration then you can just reach us at @udyog-adhaar.in and will contact you through our Udyam Helpline Number.
Tags Udyam Registration, MSME Udyam Registration, Print Udyam Registration, Print Udyam Registration Online, Download Udyam Registration Certificate Online