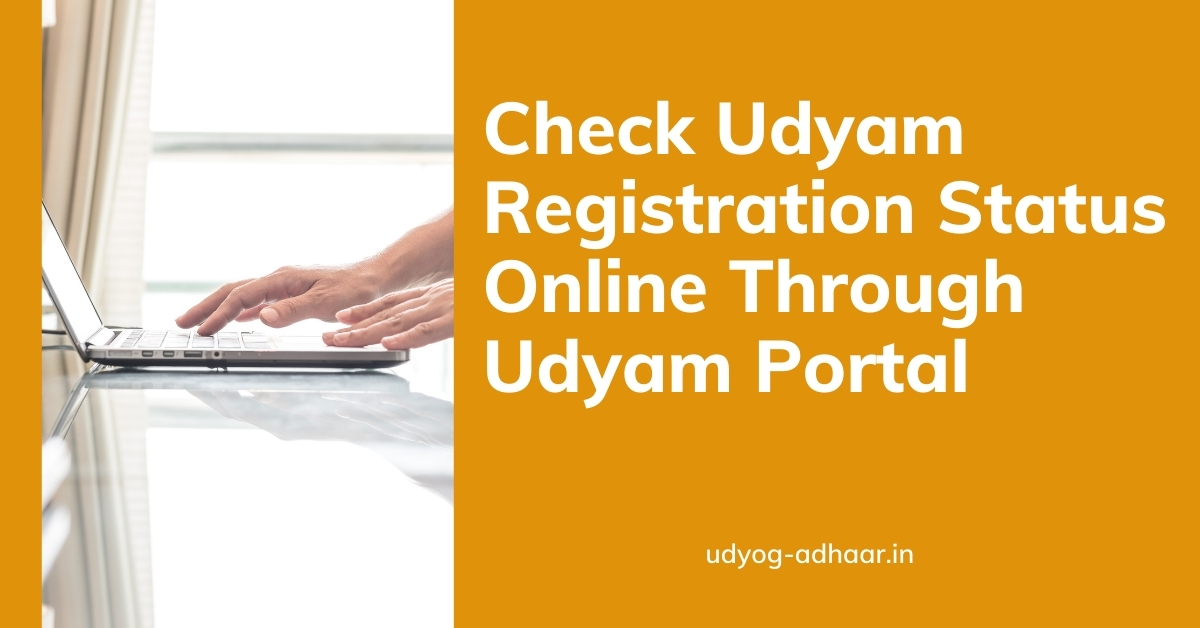 Check Udyam Registration Status Online Through Udyam Portal
Searching for how to check udyam registration status online through the udyam portal then you are at the right place. There is lots of content related to this on the internet but we will provide you with the method which is tested by our experts.
One thing is to be noted that the government has not provided any option to check for udyam status in their online portal but there is an alternative way by which you can check your udyam registration status online. So read the full blog article for a proper guide.
Click Link to Check Udyam Status -
https://udyog-adhaar.in/trace-certificate.php
Requirement to Check Udyam Status
You will need the following thighs in order to check udyam registration status Online.


Proper Udyam Registration Number (URN)


Registered mobile number for OTP verification.
How to Check Udyam Registration Status Online?
You need to review the Udyam Registration status frequently after you have completed your Udyam Registration Process so that you have all the details regarding your application for registration.

Udyam Registration verification can simply be done via the udyam registration certificate print page on the udyam portal. But don't worry about it, just follow the basic steps below to get your application status.

STEP 1: To check the status of your application, first go to the trace udyam registration page on the Udyam Portal.

STEP 2: Simply enter the Udyam Registration Number and the mobile number you filled out with the Udyam application.

STEP 3: Now choose the OTP receiving option i.e. mobile number or email address.

STEP 4: Then click on the button labelled 'submit'.

STEP 5: Make the online payment of your application.

STEP 6: Provide the OTP to our representative which you got in your registered mobile phone number.

STEP 7: After that you will be automatically redirected to a page where you can check udyam status through udyam certificate generation.

Note: Its neccasary to share your OTP with our representative to proceed with your Udyam Application

I hope so you have got how to check the status of your udyam registration on Udyam Portal.

Also Read:


If you have any questions regarding this then feel free to reach us at udyog-adhaar.in and we will solve your problem shortly.

For latest Udyam Updates:

Follow us on Facebook



Apply For Udyam Registration
30 Benefits of Udyog Adhaar Registration
How To Print Udyog Aadhaar Memorandum Application with UAM No?
Print Udyam Certificate
Government Package For MSME 2020
Check Udyam Registration Status Online Through Udyam Portal
How To Check If Certificate Has Been Generated Against Udyam Number Provided?
---
LAST UPDATED ON : 12/12/2023
WEBSITE MAINTAINED BY UDYAM REGISTRATION CENTER
---
THIS WEBSITE IS A PROPERTY OF A CONSULTANCY FIRM, PROVIDING CONSULTANCY SERVICES. WE EXPRESSIVELY DECLARE THAT WE ARE PRIVATE CONSULTANTS. WE HAVE NO RELATION OR WE DO NOT REPRESENT ANY GOVERNMENT OFFICIAL OR ANY GOVERNMENT DEPARTMENT