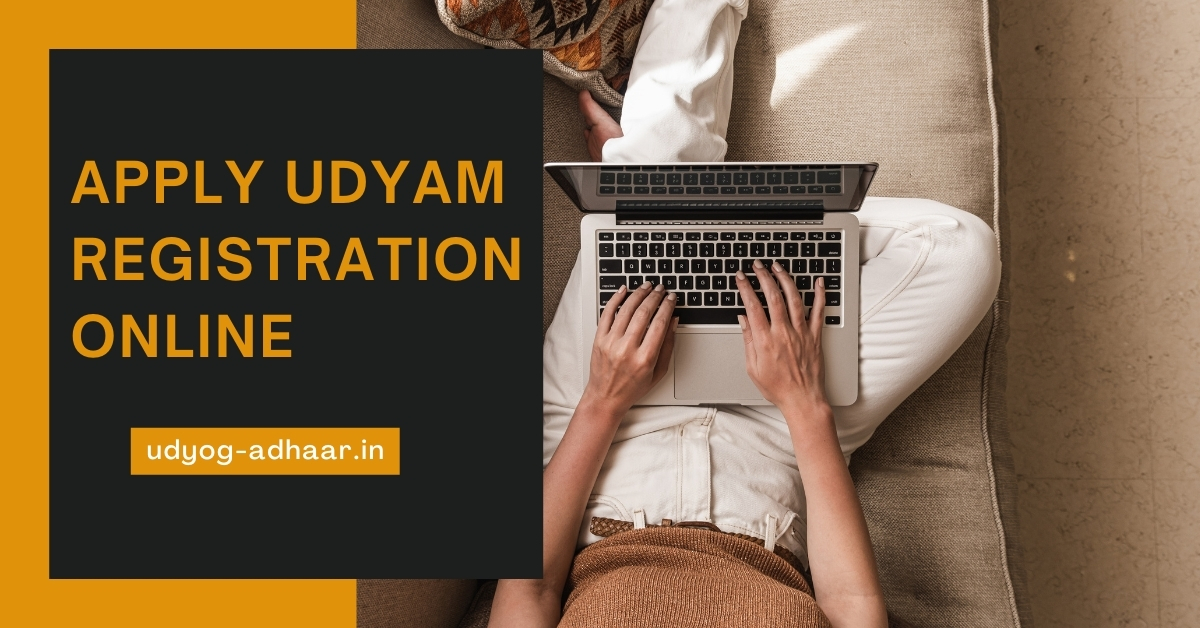 Apply Udyam Registration Online
Udyam registration is the new name for the previous Udyog Aadhaar Registration. The Government of India not only changed the name but also simplified the online applying procedure. The new process started from 1st july 2020 onwards.
What is Udyam Registration?
Udyam registration is the government new msme registration process which simplifies the hard registration procedure under the previous Udyog Aadhaar Registration. An enterprise can register under MSME just on the basis of Aadhaar card.
According to the ministry of Micro Small Medium Enterprises (MSME) notification, Udyam is the new name for MSME. The word Udyam represents the business. Udyam Registration's main objective is to simplify the time-consuming and complicated process of registering any company under MSME.
Why you should Apply for the Udyam Registration
We will provide some main highlighting benefits of the Udyam certificate which will help you to decide Whether you should apply for Udyam Registration or not.
100% Collateral free Bank loans.


Subsidy will be given on interest rate for bank loans, registration of patents and barcodes, GST and income tax filing, etc.


Benefits on Income tax and GST returns.


Protection against default and delayed payments.


Concession will be given on electricity and water bills.


Reimbursement on ISO Certification payments.


Special consideration on International Trade fairs.


Government tender benefits while applying.


Eligible for MSME Mudra Loan Scheme.


Industrial Promotion Subsidy (IPS) Eligibility.


MSME Enterprises Classification
| Enterprise | Investment in plant and machinery or equipment | Turnover |
| --- | --- | --- |
| Micro enterprise | Should not exceed INR 1 Crore | Should not exceed INR 5 Crore |
| Small enterprise | Should not exceed INR 10 Crore | Should not exceed INR 50 Crore |
| Medium enterprise | Should not exceed INR 50 Crore | Should not exceed INR 250 Crore |
Udyam Registration Online Apply Procedure
Applying for Udyam Registration is very easy and simple. Just follow the below mentioned procedure:

Step 1: First visit the Udyam Registration Online portal.

Step 2: Now the Udyam Registration form will appear in front of You.

Step 3: Just fill all the details in the registration form.

Step 4: Now make the payment for the registration application.

Step 5: One of the registration executives will proceed with your application.

Step 6: After 1-2 hours you will get the Udyam Registration Certificate on your registered email address.

Note : If you have already registered under previous Udyog Aadhaar registration, then it is compulsory for you to convert it to new Udyam Registration before 31st march 2021. Just visit our Udyam Re-Registration page.

You can also check our blog article on - print Udyam Registration certificate online.


Documents Required for Udyam Registration Online Apply
Aadhaar Card


PAN Card and GSTIN ( applicable for company registration only)
Why udyog-adhaar.in?
The Government registration process is very tough and time-consuming. Any error leads to application rejection, so better consult us. It is not easily understandable by first time users so we help them by solving their problems and make them free from hard registration procedures. Our professionals are highly experienced for this work.
If you face any kind of Udyam registration issues, then you can contact us at udyog-aadhaar.in or you can fill the enquiry form on @udyog-aadhaar.in and one of the executives will call you back.
Apply For Udyam Registration
30 Benefits of Udyog Adhaar Registration
How To Print Udyog Aadhaar Memorandum Application with UAM No?
Print Udyam Certificate
Government Package For MSME 2020
Check Udyam Registration Status Online Through Udyam Portal
How To Check If Certificate Has Been Generated Against Udyam Number Provided?
---
LAST UPDATED ON : 31/05/2023
WEBSITE MAINTAINED BY UDYAM REGISTRATION CENTER
---
THIS WEBSITE IS A PROPERTY OF A CONSULTANCY FIRM, PROVIDING CONSULTANCY SERVICES. WE EXPRESSIVELY DECLARE THAT WE ARE PRIVATE CONSULTANTS. WE HAVE NO RELATION OR WE DO NOT REPRESENT ANY GOVERNMENT OFFICIAL OR ANY GOVERNMENT DEPARTMENT