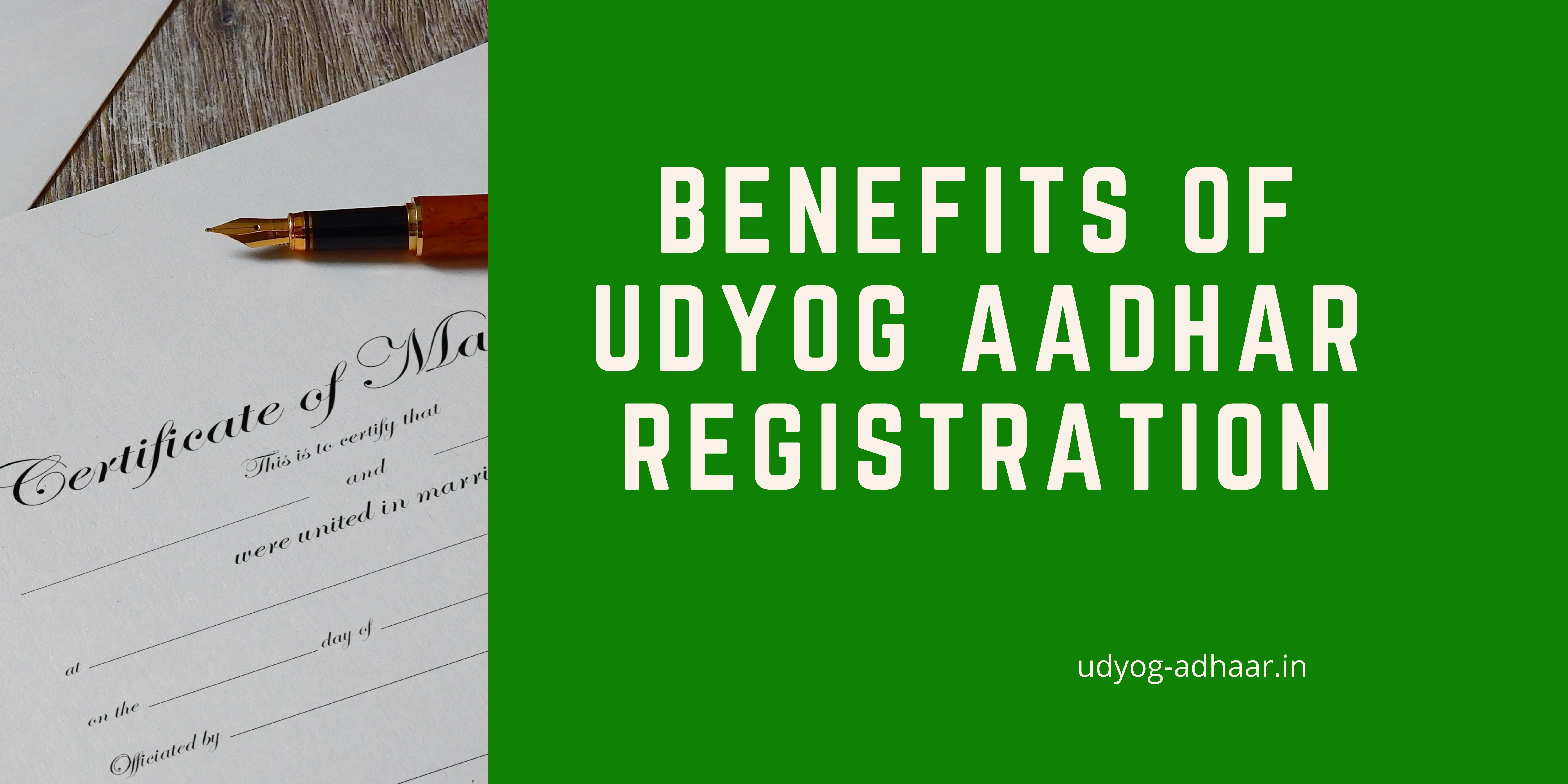 30 Benefits of Udyog Adhaar Registration
Adhaar for business, commonly known as Udyog Adhaar is a unique Government identification number. This 12 digit number is provided by the Ministry of Micro, Small and Medium Enterprises upon registering as an MSME. Sole proprietorship comes with its due to uncertainties, especially when it comes to the official recognition of his business. It is, therefore, highly advisable for them to opt for Udyog Adhaar registration and get their Government identification and their unique identification. It is possible for other businesses with other official recognition to opt for Udyog Adhaar as well. Here we have discussed 30 benefits of Udyog Adhaar Registration.
Application Process: Online Udyog Adhaar Registration
If you are feeling apprehensive about Udyog Adhaar registration, don't. The registration process is a cakewalk and can be finished easily. It also helps that no official attestation of any document is required. However, the most important point is that the registration process is absolutely free.
Let us explain Udyog Adhaar's new registration process in a step-by-step format.


For starters, you have to visit the Udyog Adhaar website
This step involves Adhaar number entry of the individual. Now, if your business is a partnership then all you need to do is enter the Adhaar number of the partner who is undertaking the application process. In the case of companies, the Adhaar number of the Authorised Signatory, who has undertaken the process of application on behalf of the company, is required.
Soon you will receive an OTP in the number which is linked to your Adhaar card. Simply enter the OTP.
This step requires you to fill up all the necessary information in the Adhaar form.
Submit only after you have provided all the necessary details.
You will receive another OTP on your registered phone number. Enter that.
To complete the process and for final submission, enter the code visible on the monitor screen




Application Process: Online Udyog Adhaar Registration




You cannot begin the application without an Adhaar card. So, apply for one in case you don't have it.
In the absence of an Adhaar card, the application will be made by either MSME- DI or DIC, i.e., District Industry Center.
Submit valid proof of address along with the copy of the Adhaar Enrollment request or the ID slip provided after the Adhaar Enrollment.
Fill-up the Udyog Adhaar form.
Submit the form to either MSME-DI or DIC.





30 Benefits of Udyog Adhaar Registration

The benefits of Udyog Adhaar are manifold. Read ahead to know more.





It allows your business to be registered under the business schemes of both the state and the central government.
Free registration which means maximum benefits for zero investment.
Medium or small businesses can apply.
Easier to avail benefits such as subsidies and concessions provided by both the center be the state.
As a registered business, getting bank loans for your business will become easier.
A collateral-free mortgage which means less hassle.
A reduction in any bank's rate of interest against loans.
Any delay in repayment will be protected.
It becomes easier to open a business account once you have registered for Udyog Adhaar.
You can easily register for the international trade fairs once you have received your Udyog Adhaar number. You will also enjoy exclusive preference when it comes to trade fairs.
IPS subsidy eligibility for your business.
Excise exemption for your business which means more chances of saving up.
Stamp duty as well as registration charges get discounted or even waived off, thereby increasing your savings.
Certain exemptions will be provided against applications for government tenders.
Electricity Bill concessions leading to a significant reduction in expenses.
Preference when it comes to Government allocation of tenders.
ISO certification charges for your company or business will be reimbursed.
Obtaining licenses will be easier because of the Udyog Adhaar registration.
Hassle-free quick resolution of any dispute once you have registered for Udyog Adhaar.
50% subsidy while applying for patent registration. Octroi benefits.
Direct Tax Laws provide further exemptions for registered MSME.
15% discount under CLCSS scheme.
Extra Subsidy during barcode registration for registered businesses.
1% interest exemption on OD.
Counter Guarantee through CGSTI from the Government.
A 100% increase in the loan limit–from 25 lakhs to 50 lakhs for the businesses which have applied for the Udyog Adhaar.
The guarantee cover extent raised to 80% from 75%.
Concession in Credit ratings and NSIC performance.
Certain products are exclusively reserved for manufacturing by MSME.





Once the submission process is complete you will receive an acknowledgment of the same. This will be followed by the generation of your 12-digit Udyog Adhaar number. You will receive it online on a certificate. You can get the certificate printed if you want to.





We Can Help You in Udyog Adhaar Registration


You can visit our site for more details regarding Udyog Adhaar and Udyog Adhaar registration.

The services we provide:



Our site can also provide you with proper guidance by experts and other aids regarding the Udyog Adhaar registration and other related inquiries.
Sometimes the registration process can get a little complicated because of the ever-changing formats of the registration forms. It is, therefore, recommended to follow the guidance of a trained expert who knows the ins and outs of the whole process.
At times it becomes difficult to follow the registration process because the government website may not have adequate information. We can help you with that as well.
Our experts can help you register for the Udyog Adhaar and you will get your registration number in a matter of days.
Our experts are highly trained and are well aware of the whole process.
They can even guide you about the subsidies and other benefits you can reap out of your Udyog Adhaar registration.





Our services are the fastest and the finest in the field and you can avail it all at a bargain price. You can simply hand over your details and our experts will take care of all your problems.
Apply For Udyam Registration
30 Benefits of Udyog Adhaar Registration
How To Print Udyog Aadhaar Memorandum Application with UAM No?
Print Udyam Certificate
Government Package For MSME 2020
Check Udyam Registration Status Online Through Udyam Portal
How To Check If Certificate Has Been Generated Against Udyam Number Provided?
---
LAST UPDATED ON : 31/05/2023
WEBSITE MAINTAINED BY UDYAM REGISTRATION CENTER
---
THIS WEBSITE IS A PROPERTY OF A CONSULTANCY FIRM, PROVIDING CONSULTANCY SERVICES. WE EXPRESSIVELY DECLARE THAT WE ARE PRIVATE CONSULTANTS. WE HAVE NO RELATION OR WE DO NOT REPRESENT ANY GOVERNMENT OFFICIAL OR ANY GOVERNMENT DEPARTMENT